Imagine for a minute if any Christian Church in America had an official ban on its youth members from dating Jews.
Imagine what the ADL, the SPLC, or any of the other Jewish Supremacist pressure groups would say about such a Christian Church.
They would be screaming from the rooftops about "racism."
They would be screaming from the rooftops about "anti-Semitism."
Their Zio-newspapers would be running headlines about the evils of "white racism" and "white privilege" and how this must be combatted.
The American public—and the world, through the Zio-controlled mass media—would be bombarded day and night about this "evil" church.
So why then, does no-one know about the United Synagogue Youth (USY), the youth movement of the United Synagogue of Conservative Judaism (USCJ) in America—founded in 1951—which has always had a formal ban on its members from dating non-Jews?
In fact, the only reason why anyone has even heard of this ban is not because the Zio-media has given it any publicity, but because the Zio-media directed at Jews only, in this case the Jewish Telegraphic Agency (JTA), has just seen fit to inform its audience that the USY has decided to lift its ban on its youth leaders from dating non-Jews!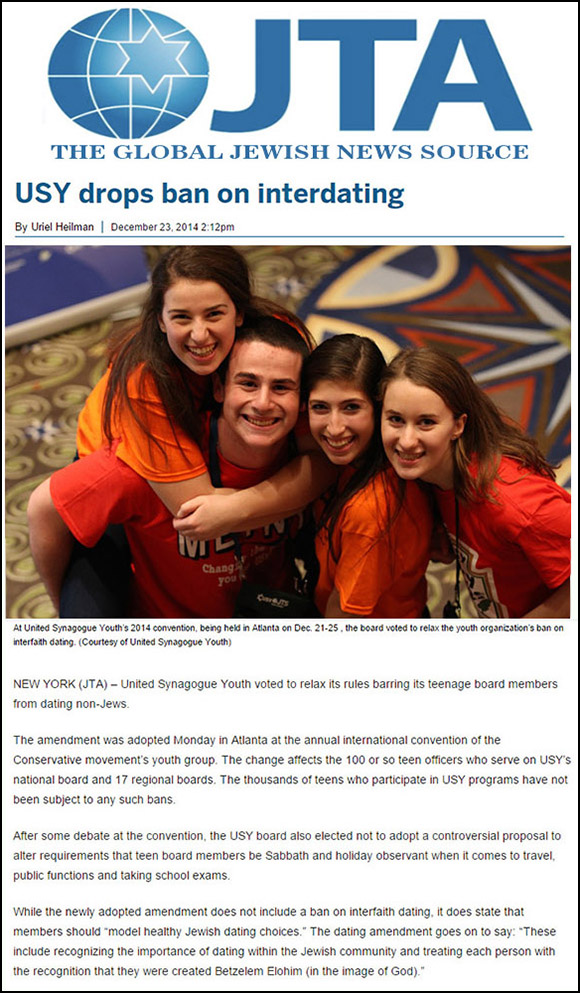 According to the JTA,
the amendment was adopted Monday in Atlanta at the annual international convention of the Conservative movement's youth group.
The JTA article took pains to point out that this did not mean that they now supported intermarriage, saying:
While dropping the prohibition against dating non-Jews, board members should "model healthy Jewish dating choices," according to the newly adopted amendment.
"These include recognizing the importance of dating within the Jewish community and treating each person with the recognition that they were created Betzelem Elohim (in the image of God)."
Rabbi Steven Wernick, CEO of the United Synagogue of Conservative Judaism, said the policy change does not reflect a change in USY's values.
"It continues to recognize what we know to be true: encouraging Jews to marry other Jews is the most successful path toward creating committed Jewish homes," Wernick said in a statement. "At the same time, we can't
The Conservative movement officially frowns on intermarriage, forbidding its rabbis from officiating or even attending interfaith weddings.
The USY is not some small splinter organization. According to the
Voices of Conservative Judaism website,
the USY has produced over 250,000 alumni, many have gone on to be rabbis, synagogue presidents, and Jewish educators.
Some of the more famous USY alumni include:
- Norton Schwartz – United States Air Force general;
- Michael Oren – former Israeli ambassador to the United States;
- Howie Mandel – comedian, actor, television host;
- Bruce Vilanch – comedy writer, songwriter, actor, and six-time Emmy Award-winner;
- Debra Winger – actress and producer;
- Bryan Greenberg – actor and musician;
- Robert Freedman – screenwriter and dramatist;
- Alexander Gould – actor and voice artist;
- Danny Siegel – best-selling author, lecturer, poet;
- Joe Purdy – folk singer;
- Andy Fickman – film and television director;
- Kelly Gould – actress; and many others
All of these Jewish Supremacists have been raised in an organization which has existed for over 50 years in which there was a formal ban on mixing with the "inferior non-Jews"—but don't think that you will have heard anything about this on the Zio-media, or from the Jewish Supremacist ADL or SPLC.
There have been no "special investigations," "focus groups," "alerts for law enforcement agencies" or mass media coverage of this overt Jewish racism. . .
The reason is obvious: the Zio-media and its Jewish Supremacist extremist groups will always cover up and ignore Jewish racism, and instead always focus on what it claims is "European racism"—even if the latter is largely a figment of their imagination.