http://davidduke.com/israel-buys-latest-hercules-aircraft-1-9-billion-american-taxpayers-hand-3-4-billion-military-aid-zionist-state/
The Israeli Air Force (IAF) has just taken delivery of the first of nine Lockheed Martin C-130J-30 ("Super Hercules") aircraft, with a total price tag of $1.9 billion—while the American taxpayers have been lined up to hand over $3.4 billion in "military aid" to the Zionist state in 2014 alone.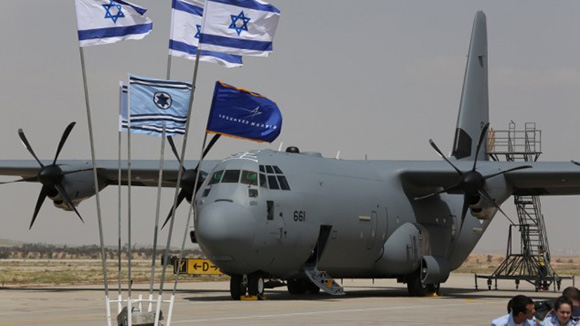 It is worth repeating that this $3.4 billion is just for one year alone—last year, the Jewish Supremacist state was handed at least $3.1 billon in "military aid".
The new Hercules are the most sophisticated transport aircraft in the world, and the Jewish Supremacists could not contain themselves with glee as the technological marvel was handed over to them last week in Israel.
"The arrival of the Samson today, after long years of planning and joint Israeli-American efforts, pushes further the operational envelope of the IAF and raises the bar on the missions it can reach," Defense Minister Moshe Ya'alon said at the ceremony.
After referring to the relations between the two countries as 'a cornerstone of Israel's national security,' he thanked, 'in my name and in the name of the citizens of Israel,' the US ambassador, the administration and the defense establishment for "the tremendous support that the State of Israel receives from you."
Chief of the IDF General Staff, Lt. Gen. Benny Gantz, also in attendance, said that the C-130J, which can fly close to the ground and land and take off on primitive airstrips, was of "decisive importance" and would allow Israel to execute "more complex missions, under any conditions, deeper [within enemy territory], faster and more clandestinely."
IAF Commander Maj. Gen. Amir Eshel said that the "diversity of capabilities that the plane represents borders on the imaginary."
Meanwhile, the Congressional Research Service's report "
U.S. Foreign Aid to Israel
," the Obama Administration requested $3.1 billion in Foreign Military Financing (FMF) for Israel for the fiscal year 2013.
The Israeli
Israel Hayom newspaper reported
that the United States will give Israel $3.4 billion ($9.3 million per day) in "defense aid" for the fiscal year 2014.
According to that report, Obama's proposal includes $3.1 billion in general military aid for Israel, similar to 2013, plus a separate request for $220 million to finance the Iron Dome anti-rocket defense system. In 2013, funding for Iron Dome was not included in the president's original budget proposal, but $210 million was added later on by Congress.
Obama's 2014 proposal also allocates $96 million for joint U.S.-Israel research and development projects, including the David's Sling and Arrow missile defense systems.
What all of this effectively means is that American taxpayers are literally paying for Israel's military forces.