http://davidduke.com/jewish-supremacist-smear-tactics-revealed-missing-malaysia-aircraft-reporting/
A valuable lesson in how the Jewish Supremacist controlled media uses its influence to generate lies and smears without any evidence at all, has been provided with a text-book example put out by the Times of Israel over the missing Malaysian airliner.
The worldwide Jewish Supremacist vendetta against Iran—started only because that nation has declared its opposition to the racist state of Israel—has already started blaming "Iranian terrorism" for the missing Malaysian airliner MH 370.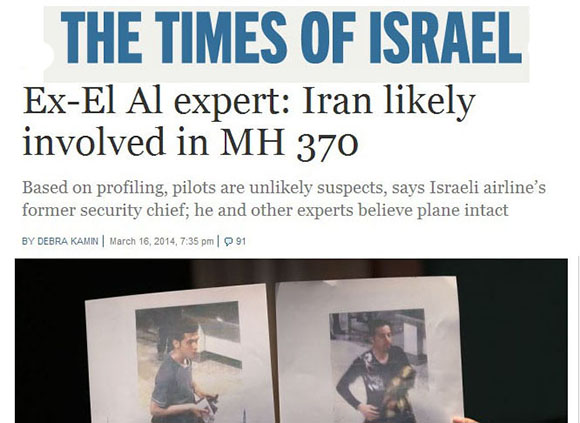 The blame-Iran game has been set in motion by a report in the Times of Israel, which is published in Israel by David Horovitz, formerly of The Jerusalem Post and The Jerusalem Report. It receives financial support from Boston, Massachusetts-based Seth Klarman, an American billionaire who founded the Baupost Group, a Boston-based private investment partnership.
Quoting the former security chief for El Al, Isaac Yeffet, who was head of global security for Israel's national carrier in the 1980s and now, like many Jews who are able to move around the world without any problem at all, words as an "aviation security consultant in New Jersey," Iran is "likely involved in [the] MH 370" hijacking.
"What happened to this aircraft, nobody knows. My guess is based upon the stolen passports, and I believe Iran was involved," he said. "They hijacked the aircraft and they landed it in a place that nobody can see or find it."
That is the sum total of the "evidence" which is presented for the "Iranian" involvement in the disappearance of the aircraft—a typical Jewish Supremacist media tactic of insinuation, misrepresentation and made up "facts" which are then presented to the world with the intention of adding to the pack of lies already distributed about Iran.
Even though it is no evidence at all which can back up its claims, the Times of Israelstory has already started to circulate among other media sources, exactly as it was planned.
Unless it is thoroughly exposed—and this website, DavidDuke.com hopes to play a major part in stopping this smear before it takes off—the claim that Iran is involved in the hijacking will continue to be repeated in the Jewish Supremacist controlled media until many people will just presume it to be true—even though there is to date no evidence at all that Iran is involved.
This smear tactic is typical of the way that the Jewish Supremacist media moguls go to work: start an unfounded rumor, and then simply repeat it over and over in as many of their media outlets as possible.
In this way, they can trick people into thinking all sorts of lies: that Iran has an atom bomb; that Iraq had an atom bomb and chemical weapons; that the Syrian government "gassed its own people" –and many, many more. All of these were lies which were started by Jewish Supremacists and then repeated in the media…
Fortunately, this time round, the internet can serve as a means of undoing this evil plan.