http://www.theoccidentalobserver.net/2013/09/adl-conspiracy-theorists-blame-jews-for-events-in-syria/
on September 26, 2013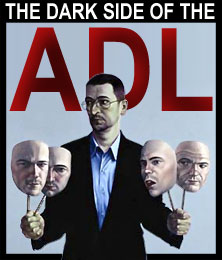 Kevin McDonald

, an anti-Semitic professor of psychology at California State University at Long Beach wrote a September 2 article in The Occidental Observer stating that, "The delay [in military action in Syria] provides an opportunity for the Israel Lobby to get into high gear in order to bump up the poll numbers and exert its power over Congress."
You'd think that after all this time with me being on their Most Wanted list, they could at least spell my name right. The article doesn't have a link to the offending article by me, which would leave the reader stuck with only a misspelled name and the link to the article about me on the ADL's website (where they do manage to spell my name right). Indeed, there are no links for any of the articles and videos by the "fringe extremists and anti-Semites" listed in the ADL press release — presumably because the ADL doesn't want its readers to see what they actually wrote.
My article also included pro-war material from a wide range of Jewish websites, including the main pro-Israel lobbying organization, AIPAC. I couldn't find any important Jewish organizations that were opposed to a military strike, so I concluded that a military option was a consensus attitude in the organized Jewish community, being careful, as always, to distinguish the organized Jewish community from all Jews.
Fortunately, Vladimir Putin put a crimp in all this by proposing a peace plan. Obama, the reluctant warrior, was able to avoid a disastrous defeat in Congress, and the best laid plans of the Israel Lobby and the organized Jewish community fell apart. The Lobby is seething right now—furious not only that missiles haven't been launched at Syria, but that peace may be breaking out with Iran.
Why would anyone think the Senate will pass AIPAC's war bills? The answer is simply that the midterm elections are coming up and that means Members of Congress need campaign cash. And AIPAC provides it.

Remember what AIPAC's former #2 guy, Steve Rosen (later indicted under the Espionage Act) told

New Yorker

writer Jeff Goldberg in 2005. Goldberg asked Rosen just how powerful AIPAC is.

Goldberg described Rosen's response.

A half smile appeared on his face, and he pushed a napkin across the table. "You see this napkin?" he said. "In twenty-four hours, we could have the signatures of seventy senators on this napkin."

Obama better be prepared. AIPAC has been pushing war with Iran for a decade. Its bills to achieve it won't be written on napkins.