http://www.wtvm.com/story/22787346/zimmerman-found-not-guilty
http://www.ledger-enquirer.com/2013/07/13/2580916/jurors-resume-deliberations-in.html
http://topconservativenews.com/2013/07/george-zimmerman-found-not-guilty/
http://www.foxnews.com/us/2013/07/13/george-zimmerman-acquitted-murder-in-trayvon-martin-shooting-death/
http://www.examiner.com/article/george-zimmerman-verdict-jury-votes-not-guilty-killing-of-trayvon-martin?cid=SM-facebook-071313-8.00p-notguilty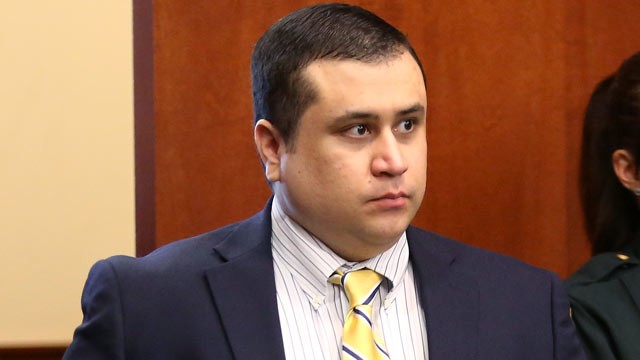 BREAKING NEWS: George Zimmerman has been acquitted of all charges in the February 2012 shooting death of 17-year-old Trayvon Martin in Sanford, Fla.
The jury of six women informed Judge Debra Nelson shortly before 10 p.m. local time Saturday that they had reached a verdict after deliberating for approximately 15 hours over two days.
Zimmerman, 29, blinked and barely smiled when the verdict was announced. After hearing the verdict, Judge Nelson told Zimmerman he was free to go.
"We're ecstatic with the results," defense attorney Mark O'Mara after the verdict. "George Zimmerman was never guilty of anything except protecting himself in self-defense."
Another member of his defense team, Don West, said: "I'm glad this jury kept this tragedy from becoming a travesty."
Prosecutors called Zimmerman a liar and portrayed him was a "wannabe cop" vigilante who had grown frustrated by break-ins in his neighborhood committed primarily by young black men. Zimmerman assumed Martin was up to no good and took the law into his own hands, prosecutors said.
State Attorney Angela Corey said after the verdict that she believed second-degree murder was the appropriate charge because Zimmerman's mindset "fit the bill of second-degree murder."
"We charged what we believed we could prove," Corey said.
Supporters of Martin's family who had gathered outside the courthouse yelled out "No! No!" when the verdict was announced.
"Today, justice failed Trayvon Martin and his family," said Roslyn M. Brock, Chairman of the NAACP in a statement. "We call immediately for the Justice Department to conduct an investigation into the civil rights violations committed against Trayvon Martin. This case has re-energized the movement to end racial profiling in the United States."
"We are outraged and heartbroken over today's verdict," said Benjamin Todd Jealous, President and CEO of the NAACP, in another statement. "We stand with Trayvon's family and we are called to act. We will pursue civil rights charges with the Department of Justice, we will continue to fight for the removal of Stand Your Ground laws in every state, and we will not rest until racial profiling in all its forms is outlawed."
Around an hour after the verdict, Zimmerman's father tweeted: "Our whole family is relieved. Today... I'm proud to be an American. God Bless America! Thank you for your prayers!"
Zimmerman was initially charged with second-degree murder in the death of Martin, but jurors could have also convicted Zimmerman on the lesser charge of manslaughter. The jury had asked for a clarification on the manslaughter charge earlier in the evening.
If convicted, the former neighborhood watch volunteer would have faced a maximum sentence of life in prison if convicted of second-degree murder or 30 years in prison if convicted of manslaughter.
The jurors sent Judge Debra Nelson a note asking for clarification on the manslaughter charge, the less-serious charge Zimmerman faces, after deliberating for about eight hours Saturday. The question read simply: "May we please have clarification for the instruction on manslaughter?"
As jurors awaited an answer, Nelson talked to lawyers at the bench and then said court would recess for a half hour. When attorneys returned, prosecutor Richard Mantei said that after conducting research, he would suggest asking the jurors to elaborate. Defense attorney Mark O'Mara agreed.
"Let's get clarification on their confusion," O'Mara said.
The judge then sent a note back to the jury that read: "The court can't engage in general discussion but may be able to address a specific question regarding clarification of the instructions regarding manslaughter. If you have a specific question, please submit it."
The jury also recessed for an hour for dinner, during which they were allowed to continue deliberating. They did not immediately respond to the judge's note.
During the day about two dozen people gathered outside the courthouse awaiting a verdict, with supporters of the Martin family outnumbering those there for Zimmerman. One man held a sign that read, "We love you George." A woman lay in the grass in a hoodie, her arms spread, in a re-creation of Martin's death.
On Twitter, Martin's mother, Sybrina Fulton, shared what she called her favorite Bible verse: "Trust in the LORD with all your heart and lean not on your own understanding; in all your ways submit to him, and he will make your paths straight."
During closing arguments, Zimmerman's attorney attempted to portray him as a neighborhood activist who shot Martin in self-defense and prosecutors attempted to paint him as a wannabe cop whose misguided suspicion resulted in the teen's death.
As the jury began their discussions, police and civic leaders in this Orlando suburb went on national television to plead for calm in Sanford and across the country, no matter what the verdict.
"There is no party in this case who wants to see any violence," Seminole County Sheriff Don Eslinger said. "We have an expectation upon this announcement that our community will continue to act peacefully."
There were big protests in Sanford and other cities across the country last year when authorities waited 44 days before arresting Zimmerman.
Zimmerman shot Martin as the two fought following a confrontation in the gated Sanford community where Zimmerman lives.
"Your verdict should not be influenced by feelings of prejudice, bias or sympathy," Judge Debra Nelson told the jury, reading from a 27-page set of instructions. "Your verdict must be based on the evidence, and on the law contained in these instructions."
The Associated Press contributed to this report.


Read more: http://www.foxnews.com/us/2013/07/13/george-zimmerman-acquitted-murder-in-trayvon-martin-shooting-death/##ixzz2YzFOvSFE
George Zimmerman found not guilty in death of Trayvon Martin
Neighborhood watch hero George Zimmerman found not guilty!
Jury finds George Zimmerman not guilty on all charges


Read more: http://www.foxnews.com/us/2013/07/13/george-zimmerman-acquitted-murder-in-trayvon-martin-shooting-death/#ixzz2YzE7geHz